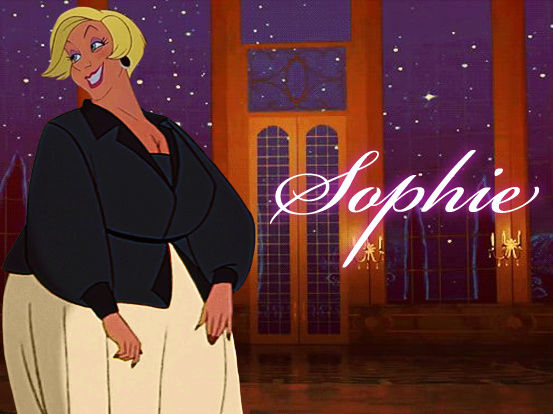 Sophie Stanislovkievna Somorkov-Smirnoff
27 years old
Lady's Maid
Sophie is a bubbly person, and very friendly. She does her best to make sure everyone feels comfortable in their environment and is accommodating with their needs. She can adapt to most situations and personalities, which comes in handy as one of Lady Allencourt's companions. Underneath her bright exterior lies a will of steel and a strong stomach for some of Blackmoor's more aggressive residents' tendencies. When needed, she will do what she thinks is for the good of Blackmoor and her employers.
Sophie was born in Russia, into one of the wealthier families with ties to royalty. Her father was assassinated because of some unpopular political views, and her mother took her and her siblings to Paris, France when she was very young. While they didn't have the same luxury they'd had back in Russia, her family were still living comfortably and rubbing elbows with the elite. Sophie was well known and had many influential friends in the business and artistic scenes.
When she was fifteen, her mother died of cholera. Her older brother Nikolai absconded with the family wealth and left for America, leaving her and her older sister, Aleksandra, to rely on friends for financial support and work. Sophie became lady's maid for an elderly friend--Madame Colette Le Fanu--and spent two years with her, earning a good deal of money of her own. It was during this time that she met her friend's seventeen-year-old grandson Nathaniel Covington, who had lived in England, during one of his visits. A romance developed between them, despite his odd habit of disappearing once a month and agitation beforehand. When he had to return to England, Sophie went with him and it was to the great disapproval of her sister.
It was when they arrived at his home that she discovered his secret: he was a lycanthrope. His father, who married into her friend's family, had come from a long line of werewolves. His father's family had been wary of letting her in, but, in time, they grew to love her as much as Nathaniel did. Three years later, Sophie and Nathaniel became engaged. For Sophie, things couldn't get better.
Instead, they got worse. During one of the Family's monthly hunts on the ancestral land during the full moon, trespassing poachers witnessed their transformation and managed to get back to the nearby town. There, they told everyone they could about what they'd seen. The townspeople, a superstitious lot, banded together and attacked the Covington estate, setting it ablaze. They shot at anyone trying to leave with silver bullets, killing many. Sophie herself had been grazed on her thigh, but managed to flee into the forest where she hid for hours. As the sun came up, Nathaniel found her. However, he'd been mortally wounded during the fight. He died in her arms.
Now Sophie was, for the first time in her life, completely alone and afraid. Instead of wallowing, Sophie picked herself, buried the love of her life, and made her way to another town where she sold what jewels she'd had on her. While living with the Covingtons, she'd been told about Blackmoor and its owners, who the Covingtons had had dealings with in the past. With the money she got from selling her valuables, she was able to get a train ticket to Blackmoor, where she explained who she was, what had happened, and why she wanted to work at Blackmoor. The Allencourts allowed it, and for the next seven years, Sophie worked to earn her keep and the respect of her colleagues and employers.
Sophie is well-educated, and is a crack shot with most firearms, but especially with pistols.